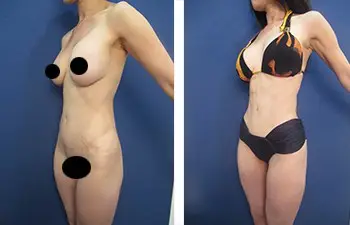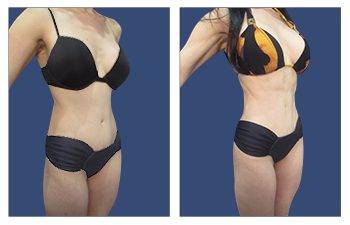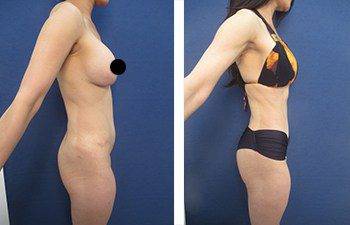 50-year-old female who underwent lipo 360 to transform her entire body contour.
What is High Definition Lipo 360?
High-definition Lipo 360 is a body contouring procedure, unlike traditional liposuction. Up until today, cosmetic procedures have been rapidly changing. High definition lipo 360 offers 360-degree liposuction to comprehensively remove fat cells and large fat deposits. Traditional liposuction procedures failed to address the entire back and midsection and the creation of muscle definition. However, high-definition cosmetic surgery uses lipo 360 to create natural curves, address loose skin, and create high-definition results by maximizing fat removal. Maximizing fat removal is made possible with the use of ultrasound energy that is predicated on achieving Hi-Def liposuction results.
High-definition lipo 360 refers to game-changing body contouring that involves treating the body as a sculpture. As a result, sculpting the body requires circumferential etching with lipo 360 and even the transfer of pockets of fat from undesired locations to desired locations, such as a Brazilian Butt Lift. Finally, HD Lipo 360 requires eliminating excess skin, which can be achieved not only by skin retraction using the Renuvion J plasma but also by skin excision to eliminate skin and soft tissue excess. Muscle highlights and natural curves are unveiled by maximizing both removals of fat and accommodating skin redundancy.
When considering the patient, lipo 360 requires the attention of all body parts, from the entire midsection to the shoulder, knees, and all the way around. This means circumferential liposuction: front, back, and sides.
Sculpting the front
Many patients consider the front side the most important. Interestingly, sculpting the front side is different for males and females. For females, sculpting includes the abdomen, pubic region, anterior thighs, anterior medial thighs, upper arms, anterior deltoid, breast, armpit region, and anterior and medial knees. For males, the front side of the body requires sculpting the pubic region, lateral chest, armpits, abdomen, upper arms, anterior deltoids, and chest.
Sculpting the back
Considering the backside in lipo 360 is crucial. For men, body contouring must address the upper arms, posterior deltoids, lower back, and buttocks. For females, your cosmetic surgeon must consider the upper arms, posterior deltoids, upper back, middle back, lower back, buttock, posterior thighs, and posterior medial thighs.
Sculpting the sides
Sculpting the sides helps create a cohesive silhouette. This involves addressing the serratus, external obliques, infra iliac concavity, mid-axillary region, and lateral thighs for females. For males, the sculpting of the sides includes the mid-axillary region, the lateral chest, the serratus, external obliques, and infra iliac concavity.
High-Definition Lipo 360 Conclusion
Lipo 360, as depicted above, will require considering the skin redundancy and addressing the excess fat. Consequently, the management of skin redundancy is essential. The extent of redundant skin indicates if a combination of minimally invasive Renuvion subdermal skin tightening and excisional tucking procedures will eliminate the skin.
We've pioneered the high-definition body scale to allow patients and surgeons from across the country to adopt proper patient selection and strategically sound operative plans to deliver high-definition liposuction body contour results. This is how lipo 360 results stand out from traditional liposuction results.
For example, the HDL body scale recommends using Renuvion subdermal skin tightening for patients with moderate skin redundancy and excisional tucking procedures for patients with moderate to severe skin redundancy. Moreover, the importance of skin redundancy is depicted in patients with severe skin redundancy.
For these patients, a staged surgical procedure is advocated wherein complete excisional surgeries are performed before undergoing lipo 360 to achieve stunning results. In this case, it may take patients longer to return to normal activities.
Of course, the optimal surgical procedure varies from patient to patient. As a result, recovery time can vary for patients undergoing High definition body contouring. Personal consultation with a board-certified plastic surgeon is encouraged to create a personalized surgical plan.