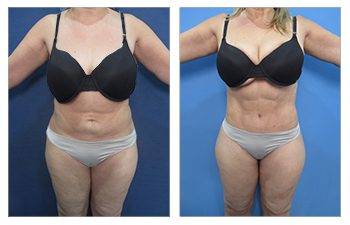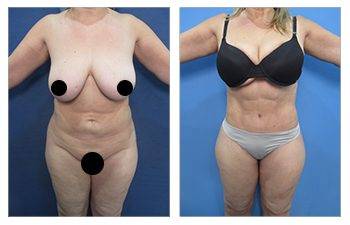 This 51-year-old female patient underwent high definition VASER liposuction of the abdomen, flanks, back, and arms – front view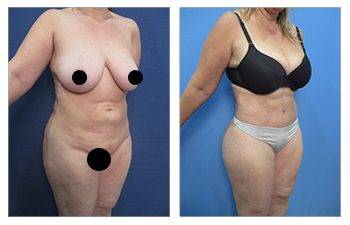 This 51-year-old female patient underwent high definition VASER liposuction of the abdomen, flanks, back, and arms – right oblique view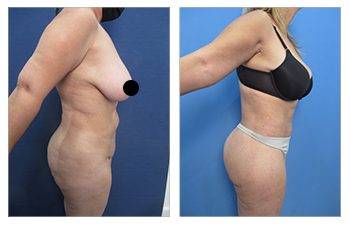 This 51-year-old female patient underwent high definition VASER liposuction of the abdomen, flanks, back, and arms – right view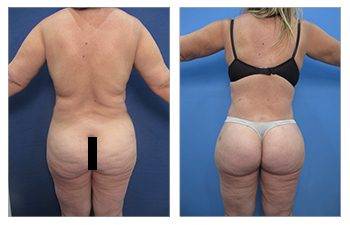 This 51-year-old female patient underwent high definition VASER liposuction of the abdomen, flanks, back, and arms – rear view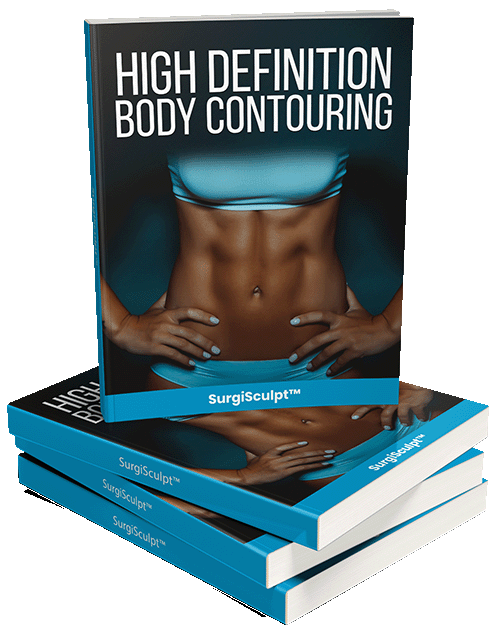 How Do We Achieve The Best Liposuction Results?
To appreciate the best liposuction option for our plus-sized clients, we must consider their starting body mass index (BMI). An initial determination of their BMI best characterizes plus-sized clients. Clients can calculate their BMI using a simple formula of weight in kilograms divided by height in meters squared, i.e… BMI = kg/m2. Possessing a BMI of 25 or greater designates the client as overweight. Clients are obese if they possess a BMI of 30 or greater. Suppose they possess a BMI greater than 35 and a medical condition characterized as morbidly obese. There are also clients with a BMI greater than 40 who are at least 100 pounds overweight. In this case, these clients could be better candidates for elective body contouring procedures.
Am I A Candidate For High Definition Liposuction?
Plus-sized clients who are surgical candidates for liposuction range in BMI from 25 to 32. Patients with a BMI of 25 to 28 may benefit from VASER liposuction. However, patients should expect to require the supplement of Renuvion J plasma to assist in countering skin laxity. Depending on the degree of skin laxity, it may be prudent to perform mid-definition liposuction. This is because high-definition liposuction may create excessive redundant skin without considering skin laxity.
Redundant skin is the most common reason for a botched liposuction outcome. When skin redundancy is present or created by liposuction, the skin redundancy will unveil any inconsistencies in the underlying fat layer. The use of VASER liposuction is helpful to minimize any soft tissue unevenness as it melts the fat and creates a smoother fatty plain layer. Despite this huge advantage, it is important to avoid removing too much fat. Over-aggressive fat removal can make the skin, or shell, more apt to wrinkling.
What Kind Of Liposuction Am I A Candidate For?
More aggressive liposuction may be feasible for patients with a lower BMI of 25 to 26. However, clients with BMIs between 26 and 28 will require a skin-tightening supplement for liposuction with Renuvion J plasma technology. Renuvion skin tightening accommodates 30 to 40% of skin redundancy. Clients with BMIs from 28 to 32 must consider supplementing their liposuction with a more invasive skin tightening tool using a strategic tucking procedure.
Excision of redundant skin is the gold standard in skin tightening since you are excising and eliminating all skin redundancy. Performing liposuction appropriately simultaneously with skin excisional surgery must be done appropriately. Gauging the amount of tissue excision is critical to achieving the appropriate tightness. Gauging skin excision is important because you want to avoid tension on the skin incision line. Optimal healing of surgical excision lines is critical to achieving a successful body contouring outcome.
Best Liposuction For The Plus-Sized Client Conclusion
In summary, the best liposuction for the plus-sized client requires more complex considerations than a patient with a BMI in the normal range of 22 to 25. Plus-sized clients have more generous fat deposition and moderate skin redundancies. This fact makes the balance of fat removal and elimination of skin redundancies even more challenging. Plus-sized clients must consider the supplementation of their liposuction with proven skin redundancy elimination techniques. Alternatively, they should expect more conservative fat removal, termed mid-def liposuction. Mid-def liposuction