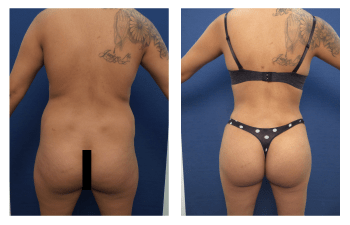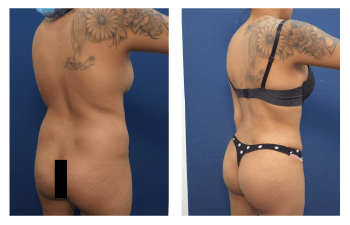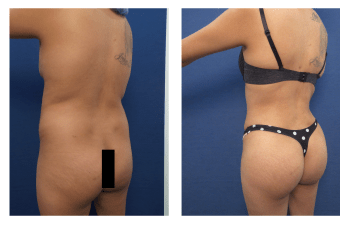 Please appreciate this 27-year-old patient demonstrates amazing buttock and back contour following surgery from one of the best BBL revision doctors.
The Best BBL revision doctor must demonstrate expertise inability to correct suboptimal BBL outcomes. The best BBL revision doctor must be proficient not only in fat harvesting using ultrasound-assisted liposuction. This is because ultrasound-assisted liposuction provides for 90% fat cell viability. This is in contrast to traditional liposuction techniques that provide only a 60% fat cell viability.
In addition, your expert surgeon should be able to design a customized surgical plan that avoids harvesting of fat from areas previously liposuctioned. This is because prior liposuction results in injured fat cells and scar tissue. When fat is being harvested from scarred areas, the fat can be prone to further injury by virtue of more aggressive fat harvesting demands.
Only if more fat grafting volume is required than that allotted by virgin areas should your surgeon consider using fat from previously liposuctioned areas? Yet, the best BBL revision doctor must ensure that fat is never harvested from areas that have previously undergone laser liposuction. This is because laser liposuction will have drilled the fat cells making them compromised and likely not able to survive the transfer process.
The best BBL revision doctor must also be proficient with contouring of previously liposuctioned areas. Patients desiring BBL revisions are often disgruntled about the disfigurement of the liposuctioned areas as well. As such, expertise in ultrasound-assisted liposuction is a prerequisite since the revision of liposuctioned areas requires the ability to contour areas of botched liposuction. This means being able to efficiently remove both fat and scarred tissues which can only be accomplished with the use of ultrasound-assisted energy.
The best BBL revision doctor must routinely perform BBL revisions. At our specialty center, we perform BBL revisions every week for patients from all over the country. The best BBL revision doctor must demonstrate expertise with prolific buttock revision before and after photographs. Finally, he should demonstrate prolific reviews on line from prior patients who have successfully undergone a BBL revision.