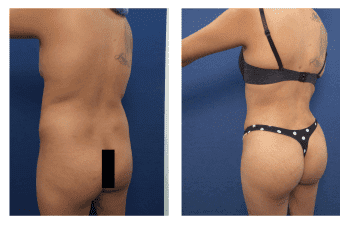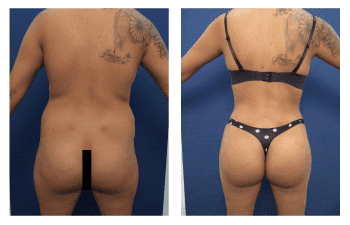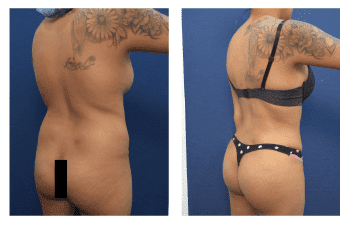 Please appreciate this 27-year-old patient demonstrates amazing buttock and back contour following surgery from one of the best BBL revision doctors.
Best Brazilian Buttock Lift Revision
The Best Brazilian Butt Lift revision doctor must demonstrate expertise and ability to correct suboptimal Brazilian butt lift outcomes. The best BBL revision doctor must be proficient in fat harvesting using ultrasound-assisted liposuction. Ultrasound-assisted liposuction provides for 90% fat cell viability. This contrasts traditional liposuction techniques that only provide 60% fat cell viability.
In addition, your board-certified plastic surgeon should be able to design a custom surgical plan. This surgical plan should avoid the harvesting of fat from areas previously liposuctioned. Prior liposuction results in injured fat cells and scar tissue. Harvesting fat from scarred areas can be prone to further injury under more aggressive fat harvesting demands.
Your plastic surgeon should only consider using fat from previously liposuctioned areas if more fat grafting volume is required than that allotted by virgin areas. Yet, the best Brazilian butt lift revision doctor must ensure they never harvest fat from areas previously undergoing laser liposuction. Laser liposuction drills the fat cells, compromising them and making them unable to survive the transfer process.
The Best BBL Revision Doctor
The best BBL revision doctor must also be proficient with contouring previously liposuctioned areas. Patients desiring Brazilian butt lift revisions are often disgruntled about the disfigurement of the liposuctioned areas. As such, expertise in ultrasound-assisted liposuction is a prerequisite since the revision of liposuctioned areas requires contouring areas of botched liposuction. This means being able to efficiently remove both fat and scarred tissues which can only be accomplished with the use of ultrasound-assisted energy.
BBL revision doctors must routinely perform Brazilian butt lift revisions. Our specialty centers perform BBL revisions routinely for patients from all over the country. The best Brazilian butt lift revision doctor must demonstrate expertise with prolific buttock revision before and after photographs. Finally, they should demonstrate prolific reviews online from prior patients who have successfully undergone a BBL revision.
The evaluation of a disgruntled BBL patient is complex. The first consideration is whether the BBL was performed appropriately. The second consideration is whether the initial surgeon understood and met the patient's aesthetic goals. Another consideration is whether the postoperative instructions were communicated and followed well, such as wearing compression garments following their Brazilian Butt Lift Procedures. Finally, it is prudent to discuss the importance of avoiding weight fluctuations. Either weight gain or weight loss can have a detrimental effect on your BBL results. Weight fluctuations will directly alter the outcomes following the BBL surgical procedure as you can gain or lose volume from both the buttock region and the rest of your body where liposuction was performed. As such, even at the initial consultation, it is important to discuss expectations of maintaining a healthy weight by living a healthy lifestyle and consuming a balanced diet to preserve the gains achieved following a BBL revision.