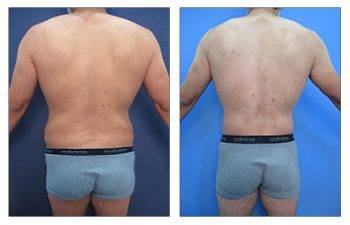 29-year-old male patient following his male Brazilian buttock lift
What makes a male Brazilian buttock lift special?
What makes male Brazilian butt lifts unique is the specific contour requirements of creating the ideal male buttock aesthetics and functional considerations specific to males.
What are the buttock aesthetic goals for the male BBL?
The ideal male buttock is best characterized by a firm and prominent upper lateral buttock and lower lateral buttocks separated by a deep lateral gluteal depression. This male buttock shape aesthetics creates square appearing buttocks that can be exaggerated by a bodybuilder's buttock, which is characterized by the shape of a butterfly.
The prominence of the upper lateral buttock correlates with the gluteus medius muscle. The lower lateral buttock is less prominent but still full in appearance. In general, the male buttock aesthetics, much like the armored plate chest appearance, is best described by the shape of a plateau where the perimeter of the buttocks is squared off or linear, and the central buttock is bold yet flat.
What are the functional concerns for the male BBL?
Functional concerns for the male BBL, or Male Brazilian Butt Lift, are just as critical as the aesthetics of the buttock and include the creation of an upper lateral shelf. This upper shelf serves the functional capacity of allowing your jeans to be held up. The creation of a shelf is in strong contrast to the female buttock, which requires a smooth transition between the lower back and upper buttock junction. In contrast to the female buttock, the male buttock maintains a strong transition between a fuller upper buttock and a cored-out lower back and flanks. Upper buttock fullness is achieved by transferring fat to the area correlating to the gluteus medius muscle. The emptying out of the lateral lower back and flanks eliminates love handles that are disliked by my men universally.
Hot to perform the male BBL
If you are interested in undergoing a Male Brazilian Butt Lift procedure, let's discuss the details of this cosmetic procedure. First, the Brazilian Butt Lift procedure must focus on removing fat from the lower back and flanks using VASER liposuction. Then, this surgical procedure must involve the transfer of fat cells using the fat grafting technique. Fat transfer is localized and involves the placement of fat over the upper lateral and lower lateral buttock region to square your buttock shape.
If you are interested in a male BBL, we encourage you to consult with one of our Surgisculpt surgeons today.