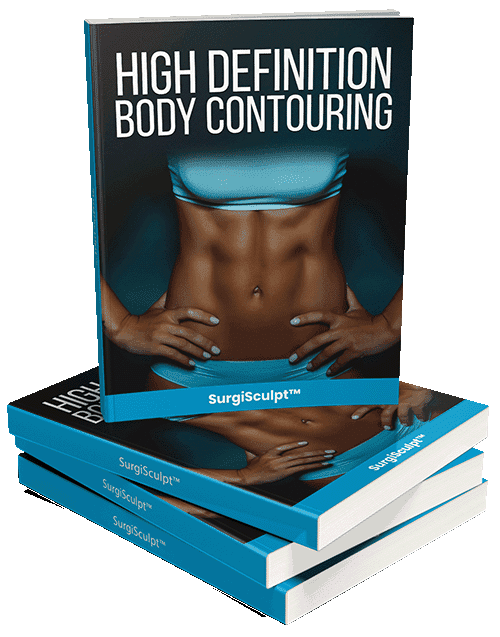 Download SurgiSculpt's free Liposuction eBook
Enjoy this female who has successfully completed the best breast lift revision surgery.
Why you would need a Breast Lift Revision
Before describing the best approach or the best results for a breast lift revision, we first must understand why a breast lift is needed. It is also important to understand that breast lifts are very common following pregnancy or prior breast augmentation. This is because breast sagging will occur when the breast skin is stretched out from the breast mound becoming larger.
A breast lift will result in making the breasts perkier with a more desired, elevated nipple-areola position, improvement in breast shape and size symmetry, and a rounded lower breast pole shape and upper pole fullness. Now, there are several reasons why a breast lift revision may be needed.
The contour or shape of the breast following a lift might change after pregnancy, breastfeeding, or if the patient experiences drastic weight changes. Breast lift revisions may be required if the patient personally desires a different size and/or shape or if the previous surgery resulted in residual asymmetry.
Another example is if the patient no longer desires to have breast implants that were previously placed. Finally, a second surgery may be required if the primary breast lift compromised any of the milestones discussed such as breast shape and size asymmetry, nipple-areola distortion or malpositioning, poor upper pole fullness, or poor breast scarring. Advanced surgical techniques, attention to patient outcome goals, and meticulous planning are crucial to receiving optimal results.
Best Breast Lift Revision
There are a number of factors to consider when attempting to ensure the best breast lift revision. The first step to having the best breast lift revision is preparation. You will need to schedule a consultation with your surgeon. During the consultation, you will be asked about your previous surgery and your desired breast lift goals. If you have had prior breast implant augmentation, we will evaluate your current breast implants and discuss different implant styles and size options for the best results.
The best breast lift revision requires thorough communication with you and your surgeon. One of the most important considerations is the ideal nipple and areola and breast mound position. When a breast implant is utilized, the vertical lift technique must be used. When utilizing the vertical lift technique, it is important to discuss both the advantages and disadvantages of this procedure.
The advantages include the ultimate ability to reshape the breast. A disadvantage is that the nipple and areola can be raised by a maximum of 6 cm. As such, a detailed discussion with the patient will help the patient appreciate how much lift of both the nipple and breast mound is possible.
When an implant is not involved, then there are no limits to the degree of nipple and areola elevation. As such, the ideal nipple position will be determined by you. When implants are chosen, implant style and size will affect breast mound position and size. In summary, the breast lift revision will help you achieve your breast goals by providing you nipple and areola position, size, and shape, as well as ideal breast mound position and size to meet your goals. If you are interested in a breast lift revision, I encourage you to take the time to complete your complimentary breast lift consultation.