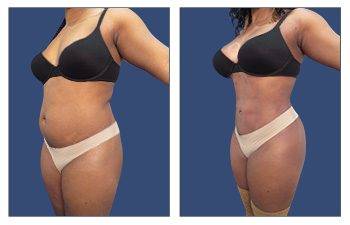 high-definition liposuction of the abdomen, flanks, back, bbl, and breast augmentation. Fat transfer from back and waist to buttocks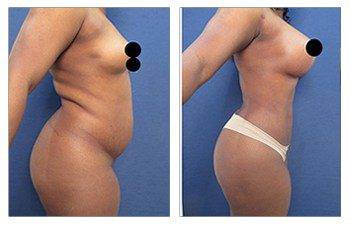 This is a patient following high-definition liposuction of the abdomen, flanks, back, bbl, and breast augmentation.
Download SurgiSculpt's Liposuction eBook
Unsurprisingly, "high definition liposuction Los Angeles" is a popular, searched term. Los Angeles is well regarded for its glitz and glamor, and patients desire the best surgical options. As such, high-definition liposuction offers the GOLD STANDARD in body contouring by using VASER liposuction, which provides superior capacity for the removal of fat deposits when compared to traditional liposuction. VASER lipo utilizes ultrasonic energy to melt the pockets of fat so that they can be effectively removed. High-definition liposuction provides the ultimate contouring outcomes because the ultrasound energy not only maximizes the extent of fat removal but also ensures smooth skin contour.
High-definition liposuction Los Angeles patients can use our Los Angeles satellite office at 2080 Century Park E #1508, Los Angeles, CA 90067. This office will accommodate all high-definition liposuction patients during your body contouring journey's preoperative and postoperative course.
Liposuction Los Angeles
Los Angeles is a plastic surgery mecca and a well-regarded hub for plastic surgery procedures. High-definition liposuction in Los Angeles is the second most prolific city after Miami. We see high-definition liposuction Los Angeles prospective patients every week in consultation.
If you are a resident of Los Angeles, we urge you to take advantage of our complimentary consultations provided to our body contouring patients.
A consultation at our Los Angeles office or via video chat will help you decide how high-definition liposuction can transform your body and life. You will also be provided a list of high-definition liposuction Los Angeles residents you can talk to and even meet to realize the feasible transformations for you.
Whether you work out regularly or do not have the luxury to get to the gym regularly, High Definition Liposuction Los Angeles location will allow you to achieve the desired body. In addition to liposuction, high-definition liposuction is predicated on eliminating any loose skin by providing patients with two options to tighten their skin. Skin tightening can be accomplished using Renuvion J plasma, a less invasive modality that will reduce skin elasticity, or excisional surgery, such as a tummy tuck or body lift, to eliminate skin redundancy. Body contouring procedures in the Beverly Hills area must be comprehensive by addressing excess fat and skin redundancy. Finally, our surgeons are experts in counseling you on living a healthy lifestyle by optimizing your diet and exercise regimens. They will counsel you on living an active lifestyle and maintaining your improvements.
.