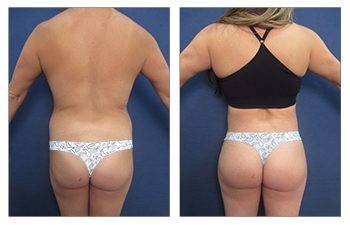 34-year-old female patient three months following high definition VASER liposuction of the back and flanks and a Brazilian Buttock Lift.
Options For A Curvier Body Profile – Butt Implants vs. BBL With Fat transfer?
Do you know the difference between a Brazilian butt lift with fat transfer and butt implants for buttocks enhancement? Is one preferable to the other? Hollywood stars and reality show celebrities have fueled an interest in achieving an "hourglass" shape with a rounded and sculpted-looking behind it. If you desire a rounder, higher, curvier derrière, one of these surgeries may be in your future.
In Simple Terms
What is a Brazilian Butt Lift?
A Brazilian cosmetic surgeon named the Brazilian butt lift (BBL). The treatment entails taking fat from one part of the body and injecting it into the buttocks to augment its size and alter its form. The name is a misnomer in many ways, as it does not involve lifting or tucking the buttock. A surgeon may elect to add a buttock tuck to remove any excess skin from the upper buttock to correct buttock sagging during the BBL.
What is Butt Implants?
Buttock implants, like breast implants, are intended to increase the size of the buttocks using silicone implants. Buttock implants are made of silicone blocks, unlike silicone gel-filled implants, which can bear strain and tension without flattening or becoming deformed. Butt implants, like breast implants, come in various forms and sizes. Some are round, while others are oval. The butt implant is made from a solid silicone block and thus is placed into the gluteal muscles. Butt implant surgeries are very specialized since the pocket of dissection where the butt implant is placed must be precise.
Butt Implants vs. BBL With Fat – Which Option is Right For Me?
The final objective of both treatments is to provide patients with the desired look and shape of their buttocks.
Implants
Butt implants increase the shape and size of the buttocks with a limited range of options for customization. They're composed of solid silicone that is safe for implanting in the body. Buttocks augmentation with implants is the more invasive of the two procedures:
The incisions are considerably larger than fat transfer.
Augmentation is limited to the central buttock cheek, where the gluteus maximums muscle is located.
Butt implants vs. BBL with fat transfer require a more extended recovery period that limits work, exercise, and other activities.
Requires more time to avoid sitting or sleeping on your new implants, up to 6 weeks.
A BBL with fat transfer is a technique to increase volume and contour. The advantages are:
The benefit of liposuction in other locations to harvest fat resulting in improved overall contour
It is far more customizable. The surgeon has control over fat placement, shaping, and size
A BBL with fat transfer is less invasive, with much smaller incisions
It has less downtime and restrictions
Butt implants and Brazilian butt lifts provide long-term, dramatic benefits for individuals looking for a rounder, shapelier behind. When making a final selection, consider your objectives, body shape, and collaboration with your surgeon to decide the best solution.
What's Recovery Like for BBL vs. buttock Implants?
When considering any cosmetic operation, many people are concerned about Recovery. You may need to minimize sitting the first month after implants and only two weeks after a Brazilian butt lift. Either way, keeping pressure off your glutes can be challenging. Your surgeon will give you specific recovery instructions, which are essential to follow for the best results. Most patients take a few weeks off work to rest and allow their bodies to recuperate. Strenuous exercise is more limited following buttock implant augmentation.
In particular, if you have other procedures, like liposuction, you must wear a compression garment. In the case of VASER liposuction, lymphatic drainage massages are required the first few days after surgery to help shape and clean residual fat.
Suppose you have a procedure that involves an incision, like a Butt Tuck or a Tummy Tuck. In that case, you will similarly need a prolonged recovery period, as observed in buttock implant augmentation, by observing weight lifting restrictions while your incisions and muscles heal.
What's Next? The next step in deciding Butt implants vs. BBL with fat transfer is meeting with a board-certified plastic or cosmetic surgeon specializing in buttocks-enhancing procedures to review your options. Superior outcomes result from a personalized surgical plan – a collaboration of the patient's goals and the surgeon's recommendations.