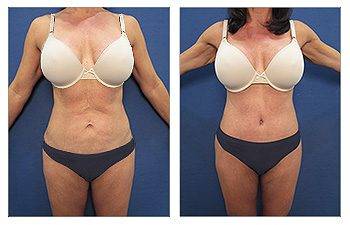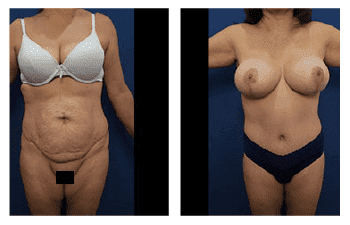 What is a VASER tummy tuck? It refers to simultaneous VASER liposuction and a mini-tummy tuck or modified abdominal skin resection.
These two procedures can be safely performed to give more patients the advantage of body contouring without leaving them with a secondary deformity of skin redundancy.
VASER Tummy Tuck Surgery
Typically, VASER allows for comprehensive (90 to 95%) fat removal rather than partial fat removal (40 to 50%). Due to this high capacity of fat removal, until recently, VASER liposuction patients were selected carefully to avoid patients with loose skin who could be at risk of postoperative deformity of the skin.
With the advent of VASER tummy tucks, minimal to moderate skin redundancy, when detected, can be managed. When the excess skin is limited to the area below the belly button, a mini tummy tuck may suffice to eliminate the skin redundancy. When skin redundancy extends above the belly button, a modified abdominal skin resection will correct a more extensive or moderate degree of skin redundancy. Both of these cosmetic procedures are powerful in that they allow for simultaneous sculpting of the abdomen with VASER technology while simultaneously eliminating skin redundancy. In both of these procedures, great care is taken to avoid undermining the tissues that are being liposuctioned. This will ensure appropriate skin vascularity.
The mini tummy tuck approach utilizes a wedge excision performed at the bikini line, much like a mini tummy tuck, which avoids undermining yet ensures a tightened abdominal skin that can accommodate the removal of fat cells from the abdomen without creating skin irregularities. The incision must be positioned below the bikini line so that a smooth and beautiful result is assured and so that when wearing undergarments and swimsuits, the incision will not be visible. Infrequently, this procedure will also require a reverse tummy tuck, which is performed if extensive skin redundancy of the upper abdomen is present. The addition of the reverse tummy tuck utilizes two small wedge excisions under each breast in the inframammary crease. These independent excisions allow for the elimination of skin redundancy over the upper abdomen.
The modified abdominal skin resection is a more invasive procedure, much like a tummy tuck. In this proprietary body contouring procedure, not only are the stretch marks eliminated from the lower abdomen, but skin laxity can also be accommodated in the areas above the belly button. Using this proprietary surgery, your aesthetic goals can be met, no matter how extensive your plastic surgery goals may be.