32-year-old female 3 months following high definition liposuction and modified tummy tuck surgery – right oblique view
32-year-old female 3 months following high definition liposuction and modified tummy tuck surgery – front view
32-year-old female 3 months following high definition liposuction and modified tummy tuck surgery – right oblique view
32-year-old female 3 months following high definition liposuction and modified tummy tuck surgery – left oblique view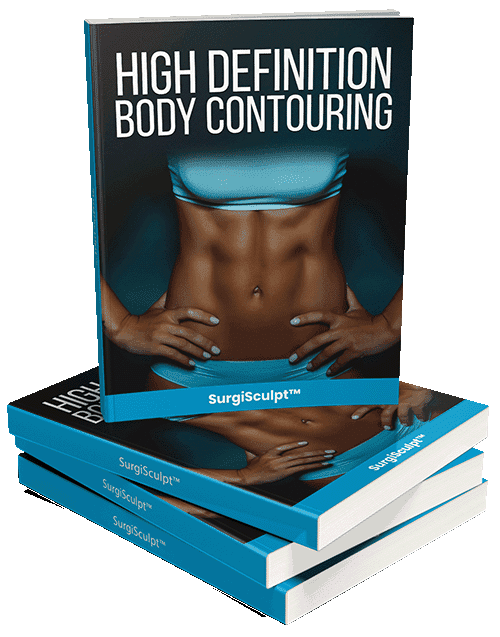 Download SurgiSculpt's free Liposuction eBook
A mommy makeover is one of the most popular cosmetic plastic surgery procedures in 2020. This amazing combination of procedures can completely eliminate all the physiological wear and tear that a body goes through throughout the pregnancy process.
One of the most common requests for all mommy makeover patients is to correct the abdomen area. There are several plastic surgery procedures that target the stomach, but the most common in mommy makeover surgeries is the full tummy tuck.
Mommy Makeover: Tummy Tuck
A tummy tuck surgery includes surgical excision of all excess fat and skin in the upper and lower belly. A major factor in creating a visually appealing tummy tuck result is the appearance of the belly button. To this day, no plastic surgeon has been able to present a surgical modality to consistently create a new belly button that looks natural. However, a full tummy tuck can be done while retaining your natural belly button and improving its shape.
You are probably thinking that there's no way belly button shape could be that significant of a factor to belly appearance. However, look at this 25-year-old patient here.
While her abdominal contour was significantly improved through the elimination of her excess skin and fat, the vertical belly button shape instantly enhances the harmony of her new, slimmer silhouette.
A vertical belly button shape is achieved by expertly excising the loose belly skin. If your surgeon removes too much, you will still most likely have a vertical belly button, but will also see significant stretch marks and contour irregularities.
If they remove too little, the remaining loose skin will release the stomach tension and your belly button will go back to being horizontal like this patient before photo.
If you are interested in a mommy makeover to improve belly button shape, contact to speak directly with Board Certified plastic surgeon today.
32-year-old female 3 months following high definition liposuction and modified tummy tuck surgery.