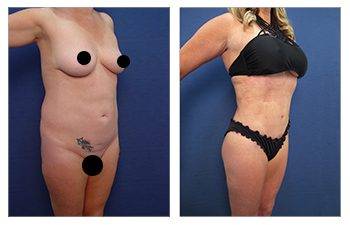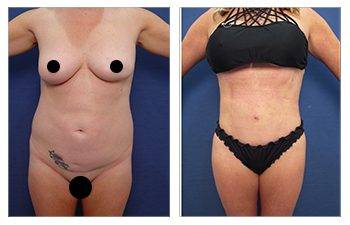 The most critical component of a successful tummy tuck is the creation of the belly button. This is because the belly button must be released during a tummy tuck to allow for maximum belly skin removal. Following the trimming of redundant skin and the tightening of the muscle, the skin is redraped and then repaired.
At this point, the belly button stalk that was released must be re-insert into the belly skin in order to re-establish a belly button. This process requires making a circular incision in the belly skin and re-establishing an aesthetically appealing belly button shape. This maneuver is referred to as creating a new umbilicus and demands aesthetic beauty and a non-operated looking belly button.
In order to create an ideal belly button shape several conditions must be met. First, the neoumbilicus ring must be sewn to fall inside the belly button shadow rather than on the outside skin where it will be visible to onlookers.
This is accomplished by securing the belly button stalk down to the muscle layer so that when you sew the new belly button ring, the belly skin is pulled down towards the muscle.
When the stalk is sewn down, then it is not as mobile and thus the new ring must be made directly over the stalk, otherwise risking the new ring may not reach the umbilical stalk during the repair.
This maneuver requires the use of an Umbilicator, an instrument pioneered by our own Newport Beach surgeon SurgiSculpt. The Umbilicator is secured on the umbilical stalk prior to redraping the skin and allows your surgeon to feel the stalk in order to ensure the creation of the neoumbilicus accurately directly over the stalk.
Second, the ideal belly button shape dictates the creation of a belly button that is proportional and harmonious with the newly created abdomen. As a tummy tuck specialist, I am referred to unsatisfactory tummy tuck belly button results routinely.
I have observed belly buttons that are both too small and look scarred in appearance as well as belly buttons that are too large in appearance and look like a target.
The ideal belly button diameter will typically range between 1.0 cm and 1.5 cm for the majority of patients. The creation of an ideal belly button is required to achieve high definition tummy tuck results.
This is because the belly button is at the center of the belly and thus most likely to catch the onlooker's eyes. As a result creation of an ideal belly button shape with a tummy tuck is a necessity for success.
Here we share the before and after of a 46-year-old female status post abdominoplasty, improving her belly button shape with a tummy tuck.