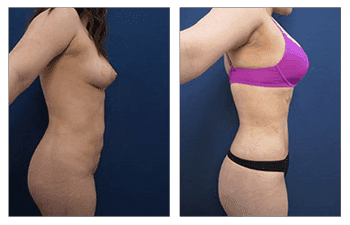 Download SurgiSculpt's Liposuction eBook
When you sit down with a cosmetic surgeon during your initial consultation, they will often give you a thorough physical evaluation and construct a plan to address your areas of concern. The key to a good body contouring procedure is assessing the amount of extra fat and redundant skin you must deal with. Only then can you determine how you will get a high-definition mini tummy tuck outcome.
The high-definition liposuction body scale was designed to help surgeons objectively address skin and fat and create a personalized and customized plan for each patient. Using the body scale, patients that score a 5 or 6 may benefit from a mini tummy tuck. This is because a score of 5 to 6 connotates a client with moderate skin redundancy that cannot be accommodated with liposuction alone. So what is a mini tummy tuck?
Mini Tummy Tuck
Unlike a full tummy tuck, a mini tuck involves a smaller incision line hidden in your bikini line that can eliminate excess skin limited to below the belly button. The extra skin in the lower abdominal region is often associated with undesirable stretch marks. Additionally, isolating the dissection of the abdominal skin will not allow for the correction of a stretched-out abdominal wall due to muscle looseness. A mini tummy tuck is used when isolated lower abdominal skin redundancy is too extensive for just VASER liposuction and RENUVION skin tightening.
At your initial consultation with a SurgiSculpt surgeon, you will receive a high-definition liposuction body scale score. The end goal for every patient is to reach a perfect 9 or 10 score on the scale, which denotes a high-definition body outcome following your cosmetic procedure. Your high-definition body scale will ultimately determine whether you need simple liposuction or a more extensive tummy tuck surgery.
A mini tummy tuck is used simultaneously with high-definition VASER liposuction to bring an abdomen of 5 or 6 up to 9 or 10 points. A high-definition mini tummy tuck includes using VASER liposuction to comprehensively remove all of the fat from your abdomen while excising any redundant skin below the belly button to highlight the abdominal muscles truly.
The keys to a successful high-definition mini tummy tuck include creating natural shadows and muscle highlights by sculpting the abdomen. Specifically, there are natural gulleys, such as the linea alba, semilunar lines, and inscriptions, that separate the muscle groups, which can be sculpted to create high-definition results. Next, removing fair skin below the belly button to create a vertical oval-shaped belly button, eliminating all stretch marks, and positioning the incision in a hidden location below your undergarments are all goals of a high-definition tummy tuck.
If you are well versed with the HDL Body Scale score and feel that a high-definition mini tummy tuck is the right procedure, contact us to schedule your in-person or virtual consultation with a SurgiSculpt surgeon today.