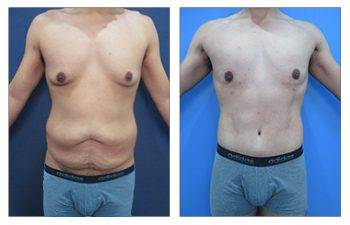 Gynecomastia surgery with skin removal is reserved for patients with not only feminized breasts but also moderate to severe skin redundancy. Patients with moderate to severe skin redundancy will not benefit from removal of the soft tissue bulk only. This is because the degree of skin redundancy will not experience the required recoil that is observed in clients with minimal to moderate skin redundancy. This concern is worsened with age, since loss of the recoil protein, called elastin, is lost after the age of 45.
Patients with extensive skin redundancy that results in breast sagging are usually massive weight loss patients or older patients. Gynecomastia surgery with skin removal results in elimination of not only skin redundancy but also breast sagging. This surgery must be performed in combination with a nipple and areola transposition to a more aesthetically optimized position. The new nipple areola position in males should be located just above the new inframammary crease and just lateral to the mid mammary line. This is in contrast to female clients who desire their nipple and areolas to be centered on their breast mound and to be localized on the mid mammary line.
If you are considering gynecomastia surgery and feel that you might have extensive breast skin redundancy or beast sagging, we encourage you to make a consultation with one of our Surgisculpt consultants.