Brazilian Butt Lift Case Studies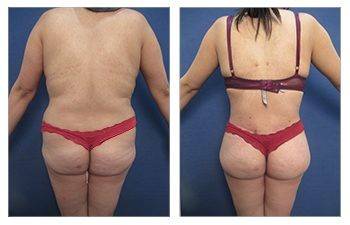 Hip augmentation is the newest addition to the fat grafting arena. It involves the addition of fat to the lateral hip region to create the aesthetically desired maximum lateral hip fullness characteristic of the hourglass shape. The second benefit of hip augmentation is that it must be performed as a supplement to central buttock fat grafting in patients that desire maximum enlargement of their buttock region, termed the bubble butt.
The bubble butt, as depicted by its name, describes a maximally rounded and enlarged buttock that can only be created by ensuring not only maximum central buttock projection but also lateral buttock fullness achieved by hip augmentation. The second benefit of hip augmentation is to create a smooth transition from the lateral hips down to the lateral thighs and up to the lower lateral back and flanks. This is because smooth transitions are a prerequisite to achieving aesthetically pleasing, feminine lateral contour lines. As such, there is significant variability in both the volume and positioning of fat transfers.